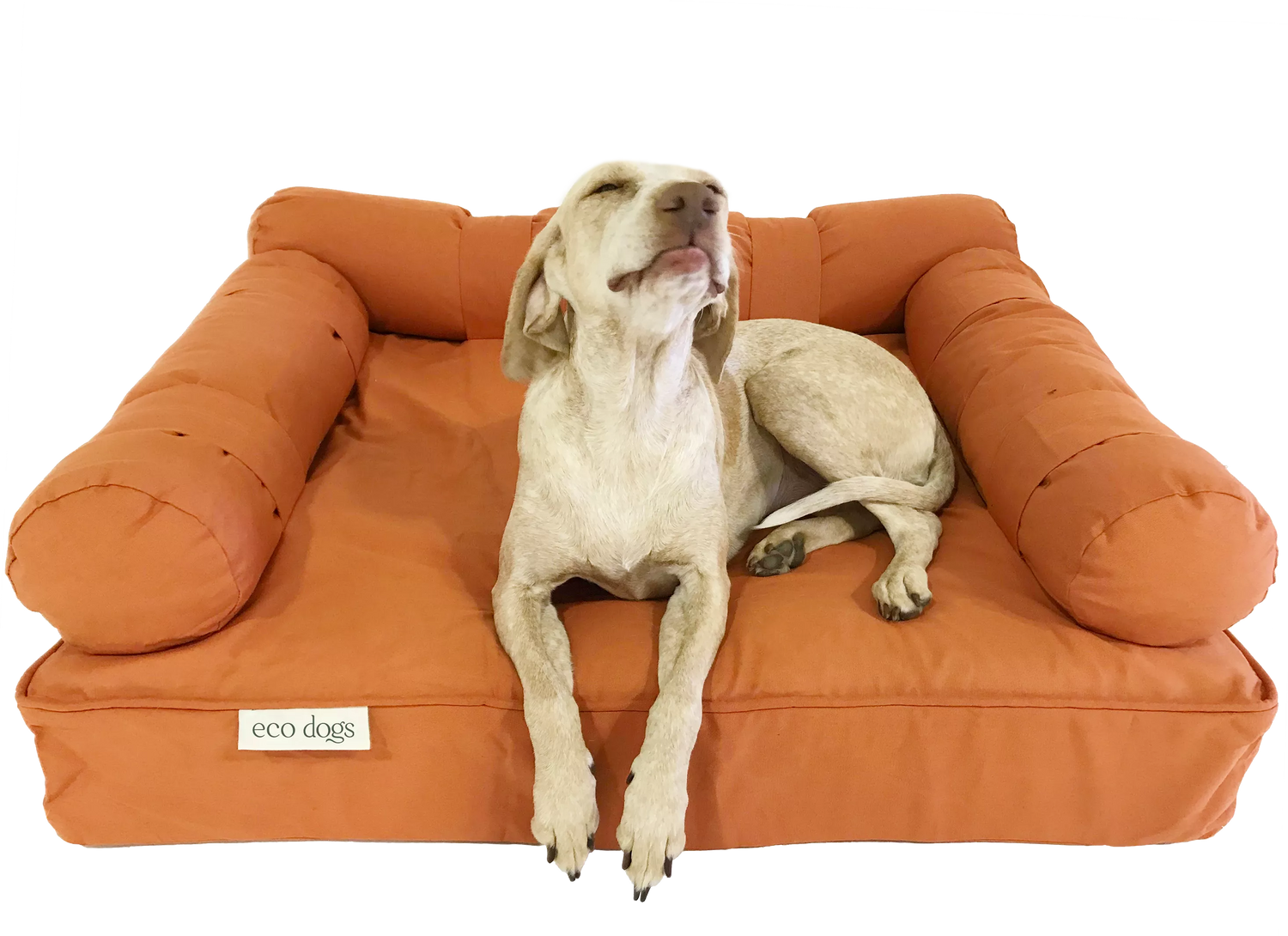 Every good dog deserves a good night's sleep
Extend their quality of life with an orthopedic eco dog bed
Shop now
Happy Bones. Happy Dog. Happy Planet.
ORTHOPEDIC DESIGN THAT KEEPS TAILS WAGGING
AUSTRALIAN OWNED & DESIGNED — ALL MATTRESSES HANDMADE IN MELBOURNE
MADE WITH MOSTLY SUSTAINABLE & NON-TOXIC MATERIALS
Made for Dogs, Fit for Humans
Your dog sleeps around 20 hours a day — they need a bed that feels comfy and can support their spine and protects their ligaments, muscles and tendons too. That's why we've designed an orthopedic dog bed good enough for humans. And we've done it using sustainable, non-toxic materials.
Our boy is so fussy with beds and we have finally found a brand he loves. He loves his bed so much that he NO LONGER jumps on the couch. We love watching him fall asleep on the bolsters and it is such a bonus that the bed looks fantastic and is made to last. Definitely a worthwhile investment, Thankyou!!
Shelby, Vince and Sparhawk
Shop by dog size
Measure your furry friend from the tip of their nose to the base of their tail
Signs your dog's current bed isn't cutting it:
— They seem stiff and move slower in the morning
— They change positions a lot and can't seem to get comfortable
— They struggle to get in and out of their bed
— They'd rather lay on the couch or your bed instead
Life's short, spoil your dog
Give them a bed that's large enough to sprawl out on and comfy enough to snuggle into.

Your furry friend will feel safely cradled by the bolster cushions, which also serve as the perfect resting spot.

Made with breathable, temperature-regulating materials to keep them warm in winter and cool in summer.

Treat your dog to better rest and a better quality of life.
The highest quality, the ultimate comfort
Hand built in Melbourne, Australia, our Eco Dog Couch & Mattresses are made with 5 Layers of the latest sustainable technology & materials — designed for Warmth, Strength, Durability and Longevity.

Give your dog a comfortable, supportive place to sleep and give yourself the gift of never having to throw out another dirty, worn out dog bed.

Eco Dogs orthopedic beds are machine washable and made to last.
Learn more
Made to last with easy to remove machine washable covers
Give them a longer healthier life with an orthopedic dog bed
Health
An orthopedic bed is ideal for keeping dogs of all walks of life healthy — but it's particularly good for those with Arthritis, Hip dysplasia, Back or muscle problems, Bone or soft tissue injuries, or Joint problems.

Designed with your dog's health in mind, by a textile designer studying Canine Myofunctional Therapy.
comfort
From the smallest French Bulldog to the biggest Great Dane — every dog can enjoy the extended quality of life that a comfortable, orthopedic dog bed provides.

Whether they're going grey and you want to give them somewhere comfortable to sleep, or you just got them and you want to set them up for life, they'll feel the difference from the layers of quality foam and breathable fabrics.
quality
Our beds are designed to last with the premium thickness and premium quality Australian foam.

Our Happy Dog Guarantee means you can sleep easy knowing our beds will maintain their structure and shape year after year, or we will happily give you a new one.

No more stinky dog beds. No need to chuck it out. Just buy it once and let them enjoy — with changeable covers to match your decor.
The human behind eco dogs
I'm Angela — a qualified textile designer, lover of animals and the human behind eco dogs.

And I'm so keen on giving our dogs the best quality of life that I'm also studying Canine Remedial therapy.

Built on the idea that dogs love lying on the couch or in our beds, I wanted to design dog beds that'd be good enough for a human. Because our best friends deserve better.

Sustainability is also at the core of everything I do. From the sustainably-sourced materials to the longevity of our beds (because the planet doesn't need another discarded dog bed!)

Here's to Happy Bones, Happy Dogs and a Happy Planet.
How we walk the sustainability walk and reduce our impact on the environment
AUSTRALIAN MADE GECA CERTIFIED HIGH DENSITY FOAM
100% COTTON & BAMBOO FABRICS WITH NON-TOXIC DYES
reduced air emissions globally without any CFC'S
Happy Dog Guarantee — 5yr warranty on the foam layer structure
GECA foam is assessed to meet environmental, human health, and social impact criteria. It is recognised by WELL, ISCA and the Green Building Council of Australia's Green Star Performance tool. We are proud to say we use no chlorofluorocarbons, formaldehyde, toxic Dyes or volatile derivatives in our materials.